Rack N Pinion Dumbwaiter
All American Made
Rack & Pinion (no cables or wind-up drum)

10' of track standard
EMI interlocks standard
200 lb capacity standard
Stainless Steel Upgrade Ideal For Bars and Restaurants
Can ship for a reduced cost, include Honeywell EMI interlocks in the price, and charge less for larger applications that require options and extra features. Look at the totals before you decide. Call us!

Made to order
Simple install takes half the time of others

Rack & pinion drive. No cables, chains, or drums to install

Entire motor and electronics assembly is pre-assembled on the lower section of the track

No cables = no slack cable lockups.

Only dumbwaiter that will run up to 20 cycles in a power outage-very important for food service applications

On Board Diagnostics

200 lb Capacity–Optional Cabs To 275 lb

5 Year Warranty on motor & gears–2 Years on other parts, including the battery

Top quality EMI Interlocks - included in the price

Low voltage wires pull 2 amps–Simple 110 plug outlet - No dedicated circuit required

Custom Cab Sizes Available

No pulleys or wire cable to wind up on a drum

Installation made even easier with our bypass control & on board diagnostic

Meets ANSI, ASME, IBC, NEC, ASTM, & AWS standards

If you have shopped around, and done a minimum of homework you will by now have discovered that other brands cannot live up to the "easy install" claims. There is certainly no way that any wire cable drive that has to be wrapped around a drum is easier to install than a simple rack and pinion with no cable at all. The last thing to say about installations is that the entire drive comes pre-assembled with the circuit boards on the track beneath the cab. Since there is no cable there is nothing to wind up, just a track with gears that is easily assembled, and mounted to the wall. We could go on, but the list is long.
Are you planning to add your own electrical supply? If not then you may have to spend an additional 300 or more dollars on many of the other brands just to get them running. The Classic only pulls 2 amps, the call/sends and interlocks are snap connections, and no dedicated circuit is required. Are you prepared to deal with service calls when the "slack cable device" stops the lift? The Classic Dumbwaiter has no cable drive, and no slack cable device that will lock up the dumbwaiter. It is easy to understand why low voltage wiring is superior to everything else.
What if the power goes out when your dumbwaiter is in transit? Not a problem with the Classic since it will run up to 20 cycles without any external power. And what about the "standard" mechanical interlocks that come with other brands? Mechanical interlocks require that you increase the size of your shaft to accommodate them, they are tough to install, and difficult to access for repairs. The Classic comes standard with the best interlocks, EMI, that mount directly in the jam allowing you to use less space in the shaft, and center the lift. If you want a 200 lb capacity dumbwaiter, it will cost an additional $200-$300 with most other brands. If you want the EMI interlocks that come standard with the Classic you'll have to spend an additional $600+ with other brands. Does your travel distance exceed 12 feet? If so you have to add another $300+ for extra track with other brands while the Classic comes standard with 16 feet. With the Classic, for that same $300 savings, you can travel up to 24 feet. With most other brands you will pay a much higher price for shipping. We will offer you easy shipping options that can cut your shipping cost in half.
Features
Call For A Free Quote

Rack & Pinion Drive - no cables or wind up drums
Pre-assemblies & lack of cables result in lowest install times
Will run up to 20 cycles in a power outage
200 lb capacity standard
EMI Honeywell interlocks standard
Simple 110 outlet required
Free space specific drawings you can build from
No machine room needed
Aluminum rail instead of steel T rail
No cables to go slack & create service calls
Documents
Drawings
Type 90 L Rail Standard Drawing
Travel Measurements
The below measurements will allow us to custom cut the rail to fit your application. Include these measurements in the "Enter Your Measurements Here" field.

We encourage you to call and we will go over each measurement.
1st Floor Sill Height (inches)

1st Floor to 2nd Floor (inches)
2nd Floor Sill Height (inches)

2nd Floor to 3rd Floor (inches)
3rd Floor Sill Height (inches)

3rd Floor to 4th Floor (inches)

Customer Reviews
02/05/2022
Dennis K.

United States
Not installed yet the package is in my garage. In a week or two.
01/18/2021
Frank

United States
Dumbwaiter
Happy New Year! I want to send you pictures of the final product. I finished the trim this week and its done. Thank you for working with us for two years.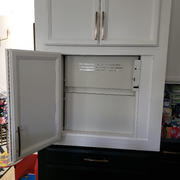 05/22/2020
Joseph L.

United States
Classic Hide-A-Waiter Dumbwaiter
"As a Technician that had been providing service and installation on residential elevators/dumbwaiters for over 25 years, I must say this product is absolutely a "Best Choice Product". First, I appreciated the light weight yet sturdy material the unit is constructed with, plug & play connections made for easy one or two man install if needed. The fact that the dumbwaiter is DC driven allowed the Cab trunk to move with no main power present this is an excellent feature. Also, operates with the same stairway lift battery source used in an standard stairlifts, this made install much more convenient for me. Lastly, no complex cable or wiring. As a simple cherry switches on top, bottom, final and cam actuation. This product came at a nice financial benefit to both the customer and myself."
07/14/2020
Assisted Lifting
Thanks Joseph. We appreciate the in depth review and fully agree that this is the best dumbwaiter we've offered in 20 years of offering this type of solution.